Restorative Yoga with Reiki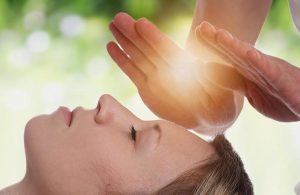 Join Jessica for a relaxing yoga class that weaves restorative and gentle yoga postures with breath-work to help quiet the mind, relax the body, and add to your energy rather than take it away. You will receive 1-1 Reiki from Jessica for a short time while you enjoy an extra long savasana to enhance your relaxation experience. It is a great way to unwind from a busy week, prepare for the busy holidays ahead, and bring balance to your energy. This class is appropriate for all levels of practice. Props are recommended for this class. Please bring your own blanket(s), and pillow or bolster. $35 for the 90 minute session. Limited to 12 people.

Reiki (ray-key) is a Japanese technique for stress reduction, relaxation and healing. "Rei" means universal or God-Consciousness, and "Ki" means life energy, the same as Chi in Chinese, or Prana in Sanskrit. Therefore, Reiki translates as spiritually guided life energy.
Receiving Reiki is a very relaxing, meditative experience. All that the client needs to do is relax, breathe, and be open to receiving Reiki. With intention for Reiki energy to flow, the practitioner places their hands above the client's body within their aura, as well as uses light touch. Reiki is intelligent and goes where it is needed to promote healing and relaxation.
Jessica is First, Second and Third degree certified in the Usui Shiki Ryoho method of Reiki. She is also an E-RYT 200 Yoga Instructor and a Postpartum Corrective Exercise Specialist.