We are excited to announce our new series: Intro to Pilates/Yoga Fusion on Reformer Machines.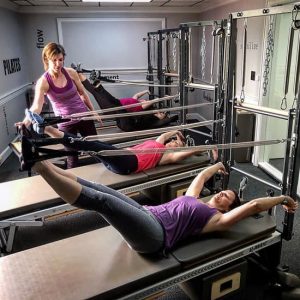 Yoga, Pilates and the Reformer. You will love the combination! In this 6-week series, we will dive deep to learn the five basic principles of STOTT Pilates® which are key to performing the exercises safely and effectively. You will quickly discover your core muscles and the amazing benefits of the reformer machine as we move through the Essential Repertoire. Springs, pulley, and the levers of the reformer machine assist or provide more challenge to your workout. Executing this mindful movement develops core & back strength, increases flexibility, and enhances body awareness. As a variety of yoga poses are incorporated while using the spring resistance, core stability and stamina are built. Fusing Pilates & yoga with breath & movement results in a unique mind body connection and flow.
Our goal is to progress every BODY, regardless of age or fitness level! With limited clients in this class, you will garner close attention from the instructor to ensure proper form and alignment.
No experience necessary. Cost is $149 for 6-Week Series. Monthly Members email lisa@thecoreconnection.com to register you with discount.