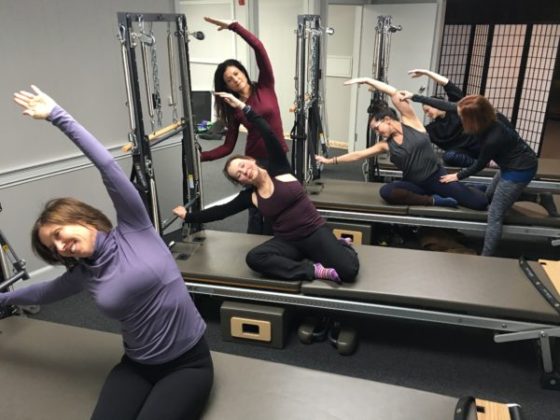 WESTBOROUGH, Mass., March 5, 2019 – Rita Matraia, owner and founder of The Core Connection, announced today that her boutique fitness studio is adding a second Reformer Pilates studio in the Westborough Shopping Center, 18 Lyman St.
The new studio, which is scheduled to open in mid-March, will feature four reformer/tower machines and Pilates classes for beginner through advanced students.
"While The Core Connection offers more than 100 classes a week for everything from spin to yoga to barefoot cardio fusion, Pilates is our main offering," Matraia said. "Pilates approaches fitness from the inside out, focusing on the core-stabilizing muscles. These muscles around the spine provide the foundation for a healthy body. Like the foundation of a house, core muscles support the whole structure. If they are not functioning properly, your body will be vulnerable to spine and musculoskeletal injuries."
Pilates is ideal for men and women of all ages and fitness levels, according to Matraia. Pilates will strengthen abs, obliques and back muscles, while addressing the deep core and stabilizers. Reformer machines provide additional strength training for the entire body, using pulleys and spring tension in a safe, non-weight-bearing environment.
The equipment is state of the art and Core Connection instructors are highly experienced, Matraia said.
Pilates was initially developed a century ago by Joseph Pilates, but refined and made popular with the introduction of Stott Pilates in 1988 by Canadian dancer Moira Stott Merrithew and her husband, Lindsay Merrithew.
Pilates exercises can be performed on a mat, but are even more effective when practiced on a Stott Pilates Reformer, which resembles a bed frame with a sliding carriage and adjustable springs that are used to regulate tension and resistance.
Matraia established The Core Connection at 290 W. Main St., Northborough, in 2007, added the Core Connection Yoga Loft on the second floor in 2015 and The Core Connection's Cycle spin studio, 299 West Main St., Northborough, in 2017.
The Core Connection offers Pilates, yoga, barre, spinning, Zumba, boot camps, restorative exercise, including postpartum corrective exercise, and more. Other exercise programs may eventually be offered in Westborough as well.
About The Core Connection
The Core Connection is a boutique fitness studio in Northborough, Mass., that offers more than 100 classes per week, including Pilates, yoga, barre, spinning, Zumba, boot camps, restorative exercise, including postpartum corrective exercise and more. In addition to promoting movement and fitness through exercise, instructors at The Core Connection teach proper form, which helps promote good health.