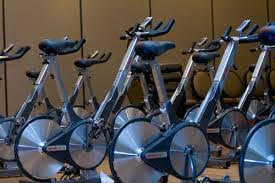 Core Cycle offers a unique spin class cycling experience set to low lights and intoxicating music that we use as a vehicle to motivate you to work harder than you ever have in a cardiovascular fitness class. Whether you are a beginner or seasoned rider, you will find inspiration in our spin classes with our instructors who have between 10 and 20 years of experience in the fitness industry.  Come and ride with us!
TAKE A VIRTUAL TOUR FIRST

Group Cycle
A 50-minute spin class designed to challenge your body and mind. Be coached to the next level of fitness by experienced instructors who will take you on a ride designed to improve cardiovascular strength and endurance, while also improving muscular strength speed and endurance. Whether you are a seasoned on road rider, a spinning enthusiast, or just starting your journey, our instructors will challenge you on endurance-based, interval and strength-based or race day style rides that will reward you with a higher level of fitness and confidence.

Group Cycle for Beginners
Come find the inspiration you've been looking for to help you achieve your personal goals! This 50-minute spin class contains all of the elements of the group cycle, but is designed with the beginning cyclist in mind. We start by fitting you to your bike. We teach you the techniques of various body and hand positions, proper alignment, and the styles a class can take on. Develop your cycling fitness and feel confident to graduate to the group cycle when you are ready!
NOTE: Cycling classes are currently located at Core Cycle, 299 West Main Street in the Romaines Plaza. For your safety, there is no admittance after 10 minutes of the class start time. Notify your instructor if you are a new rider. Please bring water and a towel into class. Pedals have toe straps that accommodate athletic footwear. Bikes must be reserved in advance.