Pilates on Reformer Machines
PILATES REFORMER AT THE CORE CONNECTION — BUILD YOUR PHYSICAL STRENGTH & IMPROVE YOUR OVERALL HEALTH
Before signing up for classes we require completion of an intro series or private training to learn the machine. Click button above to register for an intro series. If our current sessions are full or don't work for your schedule please fill out THIS FORM to be notified of future sessions.  Email to request private training.
With the emphasis on breathing, correct spinal and pelvic alignment, and concentration on smooth, flowing movement, you'll learn how to control your body's movement to become stronger, leaner and improve muscle elasticity.
WHAT EXACTLY IS A PILATES REFORMER?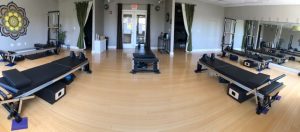 The reformer was invented by Joseph Pilates, who, as a child, suffered from rickets and rheumatic fever. As an adult, he created a rehab system to rebuild strength in war veterans. His system used the resistance of bed springs and later became known as the Pilates Reformer.
The reformer consists of a bed-like frame with a rolling flat platform attached to one end of the reformer by a set of springs. The springs provide choices of differing levels of resistance. While incorporating core strength, we use spring tension and pulleys to work arms and legs, focusing on alignment and core stability to create a strong and flexible body. Reformer classes are appropriate for anyone at any age and any fitness level.
WHAT ARE THE BENEFITS OF PILATES?
DEVELOP A STRONG CORE – TONED ABDOMINALS AND A STRONG BACK
Pilates exercises develop a strong "core," or center of the body. The core consists of the deep abdominal muscles along with the muscles closest to the spine. Control of the core is achieved by integrating the trunk, pelvis and should girdle.
GAIN LONG, LEAN MUSCLES AND FLEXIBILITY
More conventional or traditional workouts are weight bearing and tend to build short, bulky muscles – the type most prone to injury. Pilates elongates and strengthens, improving muscle elasticity and joint mobility. A body with balanced strength and flexibility is less likely to be injured.
CREATE AN EVENLY CONDITIONED BODY, LEARN HOW TO MOVE EFFICIENTLY AND PREVENT INJURY
Pilates exercises train several muscle groups at once in smooth, continuous movements. By developing proper technique, you can actually re-train your body to move in safer, more efficient patterns of motion — invaluable for injury recovery, sports performance, good posture and optimal health.
GENTLE, YET CHALLENGING
Many of the exercises are performed in reclining or sitting positions, and most are low impact and partially weight bearing. Pilates is so safe, it is used in physical therapy facilities to rehabilitate injuries. It is also an extremely flexible exercise system. Modifications to exercises allow for all levels – beginner to advanced students. Get the workout that best suits you now and increase the intensity as your body conditioning improves.
WHAT CLIENTS HAVE SAID
"DUE TO TAKING PILATES, ALL OF THE PAIN IN MY BACK IS PRETTY MUCH GONE. IT'S HELPED ME CREATE A FOUNDATION THAT I DIDN'T HAVE BEFORE WHEN I WAS WORKING OUT EVEN WHEN I WAS YOUNGER IN MY 20'S." -JEFF A.
"REFORMER HAS CHANGED THE WAY I THINK ABOUT EXERCISE. THE CORE CONNECTION INSTRUCTORS ARE INCREDIBLY FOCUSED ON MAKING SURE THAT YOU MOVE PROPERLY. I REALIZED THAT FOR YEARS, I WAS NOT USING MACHINES CORRECTLY AT REGULAR GYMS. THIS MACHINE HAS CHANGED MY LIFE!" -MJ
GETTING STARTED
We offer a 6-week Intro to Reformer series to get clients ready for classes: Level 1, 1.5 (Mixed Level), 2, and 3 (Athletic Conditioning) classes at our Northborough and Westborough studios. Click here for descriptions of our Reformer series and classes.
Click here to register for Intro Series. Click here to register for classes.
PRICING
Our pricing for Intro Series and Punchcards for classes can be found here.
PICTURE GALLERY