Intro to STOTT Pilates® on Reformer
An ideal beginner class for clients with no prior Pilates experience or those needing a serious refresher! Throughout the series, you will learn the five basic principles of STOTT Pilates® as well as the STOTT Pilates® Essential Repertoire on the reformer. Our small group size allows for close attention from the instructor to ensure proper form and alignment. Get ready to rock your core like never before! We offer two series for different fitness levels: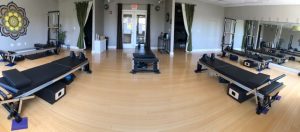 6-Week Series: If you have no prior experience with Pilates Reformer,  have not quite found time for exercising on a regular basis, or just prefer to take your time learning, this is the beginner class for you!
4-Week Series:If you have no prior experience on the Pilates Reformer, but are currently active, this is the beginner class for you!
Click here to see the dates for our next series and to sign up. Classes in Northborough and Westborough.
NOTE: Grip bottom socks are required for these classes. Exercises are broad level so those with injuries or specific physical conditioning goals should seek out private or semi-private lessons. Classes run as a series and consistent attendance is the key to success. Missed classes are discouraged and are forfeited. Please choose the series that aligns with your schedule to ensure attendance.