MASK MANDATE IN NORTHBOROUGH AND WESTBOROUGH HAS BEEN LIFTED AS OF 2/9/22!
***********************************************************************************************************************
Updated Covid 19 Close Contact Information from CDC as of December 29, 2021:
People should wear masks if:
A. They are unvaccinated or
B. They have been exposed to someone with Covid.
Anyone who has had close contact with someone with COVID-19 should quarantine for 14 days after their last exposure to that person, except if they meet the following conditions:
Someone who has been fully vaccinated and shows no symptoms of COVID-19 does not need to quarantine. However, fully vaccinated close contacts should:
Someone who tested positive for COVID-19 with a viral test within the previous 90 days and has subsequently recovered and remains without COVID-19 symptoms does not need to quarantine. However, close contacts with prior COVID-19 infection in the previous 90 days should:
Wear a mask indoors in public for 14 days after exposure.
Monitor for COVID-19 symptoms and isolate immediately if symptoms develop.
Consult with a healthcare professional for testing recommendations if new symptoms develop.
Things to keep in mind:
Starting May 29, 2021, fully vaccinated students no longer need to wear a mask indoors at the studio. Even if you are vaccinated feel free to keep wearing your mask. Do what is comfortable for you.
We are continuing with our virtual classes indefinitely. We have a wide selection of in studio and outdoor classes (Fall, Spring, Summer).
We do not plan to lift capacity restrictions quite yet. We will do so gradually once the majority of classes come inside but for now capacity will remain unchanged.
Continue to register to reserve a spot. If you cannot make it please cancel ASAP so we can relieve the wait list and you can avoid a charge.
Please bring your own mat and props whenever possible.
Please stay home if you are not feeling well or have any symptoms of illness. We all need to protect each other!
We will still run virtual for many classes and continue to build our video library for you to workout on your own schedule
VIRTUAL CLASSES ARE AVAILABLE WITH YOUR FAVORITE INSTRUCTORS!
We understand not everyone is ready to come back to the studio or maybe you have enjoyed taking classes from the comfort of your home. Sign up just like you do for a regular class. You will receive an email confirmation after you register with a link to join our virtual class via Zoom. Laptop or device can be used. Please click here for pricing information.
VIDEO LIBRARY
For our monthly members we have a video library with over 800 videos which grows every day. It's a great way to access classes with your favorite instructors from home. Click here for more info.
By entering our studio space indoor or outdoor, you are warranting that you will do your part in not spreading Covid-19.
Please do not come to the studio if you or anyone you have been in contact with are experiencing any of the following symptoms:
Fever or chills
Cough/Sore throat
Shortness of breath or difficulty breathing
Fatigue
Muscle or body aches
Headache
New loss of taste or smell
Congestion or runny nose
Nausea, vomiting, or Diarrhea
"Core" Principles for Safety
We are committed to your safety at The Core Connection. As we prepare for better days when we are permitted by the Commonwealth to reopen, we want to share with you our preliminary vision for the steps we plan to take to ensure your safety when you return to the Core. The initial plans outlined below are based on three "Core" Principles:
We will adhere to standards that are as stringent as those issued by Public Health Officials and expect that our standards will, in some cases, exceed the standards issued by Public Health Officials.
We will continually monitor the effectiveness of our policies and procedures as well as changes in findings by Public Health Officials and make adjustments swiftly as necessary.
We will always put our staff and clients first, making investments in personnel, equipment and technology as necessary that will enable us to create the safest experience for everyone in our community.
In the meantime, we DID want to let you know all about the exciting things we have been doing to keep you connected to your fitness with us and continue this supportive community so don't worry! We have a plan!
Installation of professional zoom roomS

We knew that even if we were able to open in July many of you would still want the option for professional virtual classes so we made an investment and installed professional grade Zoom video conference technology in the Cycle Studio and the Main Studio, where we will continue to offer a wide selection of online fitness classes. This equipment integrates a high-quality camera with powerful audio capabilities that significantly enhances the online fitness experience. We are now happy to announce that we will be installing a zoom room in our main studio. See details below for other changes we have made there.
REFORMERS ON THE MOVE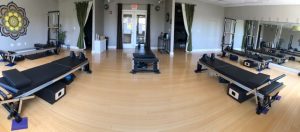 In Northborough, we have moved the 5 reformers from the back room up into the yoga loft! Check out how great these look in this much larger space! In Westborough, we have also spread out the equipment so there is plenty of room for social distancing. We are ready for small group and private training!
Policies for Reformer Classes
Staff and clients exhibiting symptoms of Covid-19 or suspecting exposure to the virus agree not to come to the studio.
When arriving for class please ensure that you are arriving no more then 5 minutes before class begins and when leaving please ensure you are exiting building within 5 minutes of the end of session.
Reformers and accessories used will be wiped down by clients exiting and then again by clients entering so that staff can wipe down other commonly touched surfaces before the next group enters.
We will be requiring instructors and clients to wear a mask for Reformer classes if they are not vaccinated and will offer suggestions for breathing techniques that will not detract from the workout.
We plan to keep clean air circulating by opening windows and doors where possible for cross ventilation. We also have installed a powerful medical grade air purifier to clean the air within the space during and between sessions.
We have converted any soft straps to vinyl straps for higher quality cleaning and disinfecting.
Please minimize what else is brought into the studio, locking unnecessary personal items in your car out of sight.
We are all in this together and would appreciate any feedback you have. Stay safe and keep moving!