6 Week Series – TUESDAYS at 9:45AM – Starts March 29th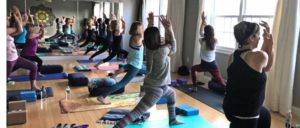 Congratulations! You've recognized that your body is crying out for the benefits of a regular yoga practice. Maybe you've been trying a few online videos and you're just not sure of your poses. Our Intro to Yoga is the perfect class for you! This 6-week series is designed for clients new to yoga or for those clients who want to spend time on the foundations of a yoga practice. We will introduce you to the alignment, breath, and mindfulness of the foundational yoga poses. Class moves at a slower pace with opportunity for questions, individual attention, and corrections to form. Participants will feel comfortable moving on to our regularly scheduled yoga classes after completion of this course. A minimum sign up is required to run this series. The cost for this 6-week series is $80. Please note that drop in on the regular schedule will be allowed for monthly pass holders if space allows.
Wear comfortable clothes that are not too baggy. Please bring your own yoga mat and blocks in order to comply with Covid safety policies. Please refrain from eating an hour before yoga.